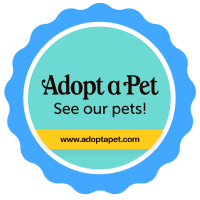 If you are interested in adoption, please fill out an application, or email us at adopt@oldnorthcanine.com for more information! If you are looking for another dog you don't see listed, please check out our Canine Connection program – which will match homeless dogs with adopters! All dogs are fully vetted (spay/neuter, vaccinated, dewormed, heartworm tested, on heartworm and flea/tick preventative and microchipped). Our dogs all live in foster homes after being pulled from shelters or surrendered to our organization. Dogs over 6 months of age are $150 and puppies are $175.
The adoption process for ONCR dogs is as follows:
your application is received and reviewed (approx 3-5 days)
your references checked (please advise your references to return our call/email asap) (approx 2-3 days)
a home visit is conducted to meet the family and see where the dog will be living (depending on your location, 2-10 days)
meet & greet with the dog (this can be done at same time as home visit)
all adoptions begin with a two week trial (the check for adoption fee not cashed until trial period is over)
adoption finalized! Happy Tails!
**Please note: We often receive several applications for each dog we have. This is especially true for puppies. Because we are an all volunteer group, not every application will be able to receive a home visit. If the application doesn't indicate the family would be a good fit for that particular dog or puppy, one of our adoption coordinators will contact you to discuss other dogs that may be a better match. There are often applications from locations that we simply don't have the time or resources to be able to conduct a home visit, especially quickly. If at all possible, we will do our very best. We try to have volunteers in areas within 2 hours of Burlington and Alamance County. With also work with other rescues that will sometimes do home visits for us.  Thank you for your understanding.
Pet adoption and rescue powered by